The Exhibition Center of the airport terminal 1 (T1) is located in room C of the national area, between gates 4 and 5. It is open to the public 24 hours a day throughout the year.
In this space, exhibitions on diverse topics connected with aviation and its development in Mexico are constantly exhibited; as well as expositions related to the Mexican flora, fauna and ecosystems; artistic and cultural performances of renowned artists and other exhibitions that contribute to the spreading of the cultural and tourist richness of Mexico. Also, in the later part, busts of several important persons that significantly contributed to the development of aviation in Mexico are exhibited.
Currently, the so-called exhibition "Genios y figuras. Retratos caricaturales de Ernesto García Cabral" (Genius and figures, caricature portraits by Ernesto García Cabral) is housed in this place. We invite you to visit the Exhibition Center and enjoy the content of this exhibition, which will remain from April 20 to June 10, 2018.
Additionally, we invite you to visit the mural entitled THE CONQUEST OF AIR BY THE MANKIND, which is housed in room B of the ambulatory, in the national area. This mural was created by architect Juan O'Gorman and represents a journey through the history of humanity and its struggle to break all limits, symbolizing the beginning of aviation and its evolution until modern times.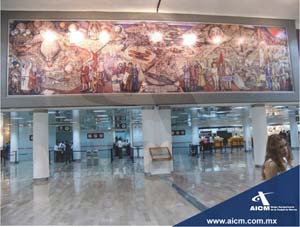 Genius and figures, caricature portraits by Ernesto García Cabral
Ernesto "El Chango" Cabral was a Mexican artist who stood out as one of the best cartoonists in our country. His cartoons were published in newspapers such as Excelsior and Novedades, as well as in magazines such as La Tarántula, Frivolidades, Semanario Ilustrador, Multicolor, and mainly on the covers of Revista de Revistas.
This exhibition highlights the caricature portrait genre that the artist explored for decades. The exhibition also includes portraits and the publications in which the important persons caricatured by the artist appear.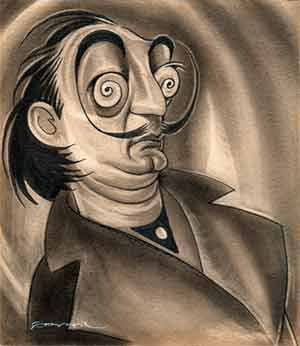 Ernesto Garcia Cabral, Salvador Dali, 1961, ink, gouache and wax crayon on paper.