The Exposition Center (Expo Center) Terminal 1 (T1) is located in Hall C the domestic flights area, between Gates 4 and 5. Year round, it is open to the public 24 hours a day.
On view for the public will be diverse exhibits related to aviation and its development in Mexico, presentations related to the flora, fauna, and ecosystems of the country, as well as art and culture by recognized artists, and other expositions that contribute to the spread of cultural and touristic riches in the Mexican Republic.
In the back area of the same exhibit, busts of various personalities who participated significantly in the development of aviation in Mexico are displayed.
Additionally, you are invited to visit the Conquest of Air by Man mural, on view in Hall B in the domestic flights area. The work of the Architect Juan O'Gorman, it represents a journey through the history of humanity and its struggle to break all boundaries, symbolizing the beginning of aviation and its evolution to modern times.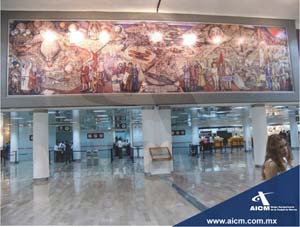 Vestigios del ser, exposición de Mayte Guzmán,
El Instituto Nacional de Bellas Artes presenta: Vestigios del ser.
La obra obtuvo el reconocimiento "Best of show" en la feria de Arte Contemporáneo Art Expo, Nueva York.
La exposición presenta 25 obras recientes de pintura concreta cuadros con aplicación de objeto, en este caso, vestidos, creados entre 2015 y 2017, cinco pinturas con tendencia abstraccionista del periodo 2008-2015.
Los cuadros concretos son piezas en las cuales la artista incorporó vestidos de mujer, de épocas y estilos pasados, encontrados y adquiridos con el fin de convertirlos en una suerte de monumentos plásticos. Cada tablero con un vestido intervenido es un acto de memoria, que considera la procedencia de las prendas y genera una ficción afectiva.
La artista está interesada en las reflexiones acerca del sí mismo, entendidas como las exploraciones de la consciencia que el sujeto tiene de su cuerpo y de su presencia corporal en el mundo. Cada persona es y tiene un cuerpo. De ahí que los cuadros-objeto son intervenciones contextualizadas, a modo de pinturas con aplicaciones de elementos diversos y escrituras/grafías, legibles o insinuadas, que "animan" el aspecto inerte de las indumentarias.
Mayte Guzmán es una artista plástica nacida en la ciudad de México. Realizó estudios profesionales en la Escuela Superior de Arte Moderno y en la Academia de La Grande Chaumière, ambas en París, Francia. Posteriormente trabajó en el estudio del maestro Gerhard Rottluff en Berlin, Alemania.
Ha participado en más de 12 Bienales y 35 exposiciones, entre las que destacan: Mostra di Arte Messicano, y Stamperia D'Arte Edi-Gráfica ambas en Florencia, Italia, Galería Les Quatre Saisons Montreal, Canadá, Galería Da Vinci´s, Miami, Merrit Gallery en Baltimore, Philadelphia, Renaissance Fine Arts en Washington; Centro Cultural Estación Indianilla Ciudad de México; Feria de arte Contemporáneo Art Karlsruhe, Alemania; SeeMe Museo de Louvre Paris, Francia; Art Toronto, Canadá; Singapore Contemporary, Singapur y en cinco ocasiones en la Galerie Lee Paris, ubicada en Francia.
La exposición permanecerá abierta al público hasta marzo de 2018.