Aerotren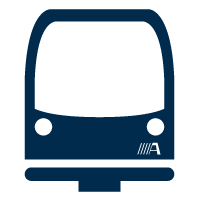 The Aerotrén is the means of transport used to move passengers between AICM Terminals 1 and 2.  The platform access at Terminal 1 is located at the halfway point of the Puente de Pilotos (Pilots Bridge) — going up the escalator at gate D. In Terminal 2, the platform access is near gate M, adjacent to the domestic departures area.
Hours of service:
From 05:00 to 23:00 hours, every day of the year. The first trip is made from Terminal 2 to Terminal 1, and the last trip ends at Terminal 2.
---
Capacity:
The Aerotrén has 4 cars, with a capacity of 100 people and their carry-on luggage.  For passengers and/or users who have oversized luggage, we recommend they use ground transportation.
---
Schedule:
The distance between both terminals is 3 km (1.86 miles), and the speed of the Aerotren is 45 km/hour. The station-to-station travel time is about 4 minutes, 40 seconds.  The maximum waiting time is about 11 minutes.
---
Who is authorized to use the Aerotren?
Travelers in transit with an electronic reservation code, ticket and/or boarding pass for the airline on which they are traveling.
Technical Crew (Pilots)
Cabin Crew (Flight Attendants)
Employees of airlines operating at T2, government offices and service providers with prior authorization, and whose work requires they travel between both terminals.
ASA and AICM personnel who have T1 and T2 indications on their Airport Identification Card (Tarjeta de Identificación Aeroportuaria).
Minors who are traveling without an adult companion, provided they are guided by airline staff and when they do not require additional attention from staff operating the Aerotren.
Users with special needs may use the Aerotren with a wheelchair and a companion, family member or staff from different airlines and/or service providers (the companion does not need to have a boarding pass).
Guides for blind people, provided they are with the passenger with a disability. In these cases, personnel from the Secretaría de Seguridad Pública or Policía Auxiliar, in coordination with employees operating the Aerotren, will be authorized to accompany and transfer the guide and the passenger with a disability.
For guide dogs, their cage must be on hand.  In both cases, the trip will be done on an empty car so as to not disturb other passengers.
Note: No other animals will be allowed.
---
Important:
If for any reason you decide not to transfer using the Aerotren or if the service is not available, you can use the bus transportation service called "Transportación entre Terminales" (between terminal transport). Buses are located at entrance 6, Terminal 1, and entrance 4, Terminal 2.
---
Basic guidelines:
Always have your boarding pass, electronic reservation code and official ID on hand. Crew members must be wearing their uniform and show their company badge. If traveling without a uniform, you must show your company badge and an official ID.  For service to employees of airline, government offices, service providers, ASA and AICM, who work at Terminal 2, they must visibly show their Airport Identification Card (Tarjeta de Identificación Aeroportuaria, TIA), with T1-T2 indications, and must check it on the fingerprint reader.
People who are inebriated and/or under the influence of alcohol, drugs, etc., may not enter.
It is important to follow the directions that are provided through visual and audio media and from personnel regarding the use of the Aerotren.
Smoking, eating and drinking is strictly prohibited, both on the platform and inside the train.
Passenger boarding and disembarking will not begin until the minimum safety requirements are met.
When an unscheduled stop or breakdown occurs, the Aerotren will be serviced immediately. If necessary, the train will be cleared at the nearest Terminal. A warning and instructions will be given through the intercom system.
Allow the automatic doors to open and close freely, and do not block them with luggage or any other item.
Please board only at the platform doors, which have overhead electronic displays.
For your comfort and that of other passengers, please travel on the Aerotren with only carry-on baggage.
Allow other passengers to get off before boarding.
If you are about to board and the electronic displays and loudspeakers say the message "Please step away from the doors, they are closing" ("Favor de alejarse de las puertas se están cerrando") — the loudspeaker says the same message — we recommend that you don't get on. You could get hurt and if you obstruct the automatic closing doors, you could cause delays with the Aerotren's departure.
Keep children away from the doors when they are closing and when the train is in moving. For your safety, people are not allowed to ride at the front of wagons 1 and 4, next to the windshield.
Luggage carts cannot be  brought on the train.
Boarding with Segways is strictly prohibited (used by the PFP)
Carrying ladders and different items that because of their characteristics could damage the inside of the trains and/or injure Aerotren users is  forbidden.
People who are caught abusing, damaging or obstructing the service will be reported to the corresponding authorities and will pay a fine or be subject to other measures for the damages caused.
---
Aerotren boarding areas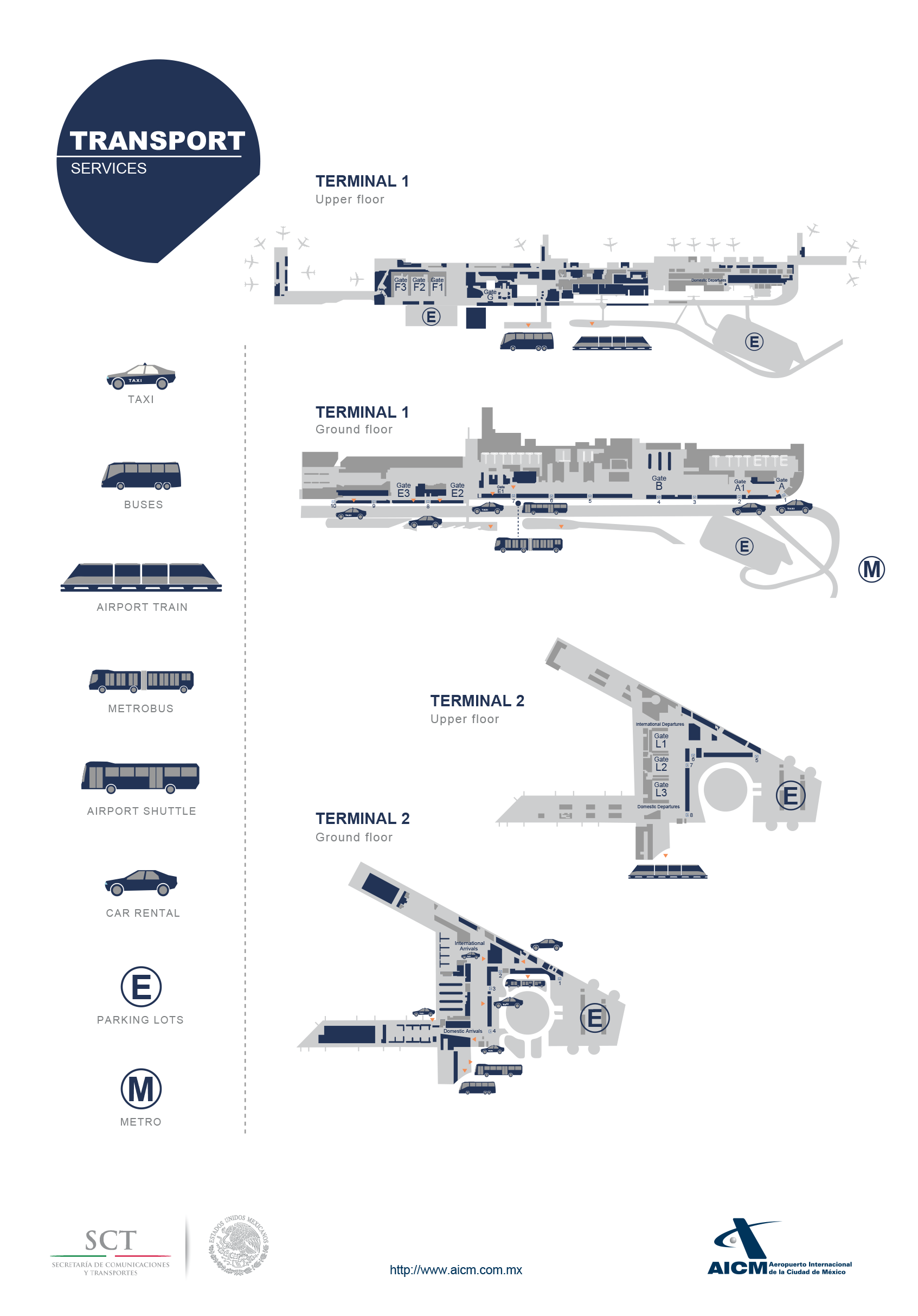 Revised/Last Update: October 9, 2013 9:16 pm