Between terminals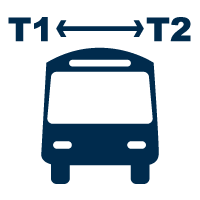 Travelers in transit, with an electronic reservation code, ticket and/or boarding pass for the airline on which they are traveling, technical crew (pilots) and cabin crew (flight attendants) may use the Aerotrén (Airtrain) to travel for free between terminals.  The boarding zone for the Aerotrén in Terminal 1 is located at gate 6; in Terminal 2, it can be found at gate 4.
The service runs from 05:00 a.m. to 01:00 a.m., 365 days a year.  Buses have wheelchair ramps, air conditioning and space for baggage.  The fare of transportation is paid directly to the driver.  Their rates are registered with the Secretaría de Comunicación y Transporte (SCT). Tickets include civil liability and medical insurance for passengers.
For the Public in General with the same transportation needs, there is a public bus service.
Revised/Last Update: September 24, 2013 6:02 pm