Buses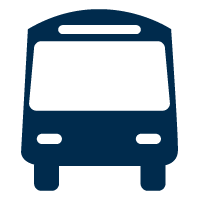 For the comfort and benefit of AICM travelers there are two Bus terminals that operate 24 hours a day, 365 days a year. Different bus lines offer round-the-clock transportation to the main cities near Mexico City.
Some destinations include Cuernavaca, Pachuca, Puebla, Tlaxcala, Toluca, Querétaro, Córdoba and San Juan del Río.
The bus terminal in Terminal 1 is located near the car ramp that leads to the international area. There you can find a variety of services: VIP lounges, Internet, waiting, reading and meeting rooms. The terminal also has a food court, shopping, souvenirs and currency exchange services.
Buses depart from AICM Terminal 2 near gate D, between entrance 4 and the domestic arrivals exit point. Here yo can find waiting rooms and a food court.
You can check bus lines, destinations, schedules and rates.
---
Rates
| Destination | Fare |
| --- | --- |
| Cuernavaca | $270.00 |
| Pachuca | $225.00 |
| Puebla | $300.00 |
| Querétaro | $405.00 |
| Toluca | $210.00 |
| Córdoba | $582.00 |
| San Juan del Rio | $273.00 |
| Orizaba | $558.00 |
| Celaya | $470.00 |
---
Schedules, destinations and rates
| CVO | Estrella Roja | Pullman | Caminante | Caminante | Primera Plus | Primera Plus | Primera Plus | Estrella Blanca |
| --- | --- | --- | --- | --- | --- | --- | --- | --- |
| | Puebla | Cuernavaca | Toluca | Aeropuerto | Queretaro | Celaya | S J del Rio | Pachuca |
| 1 | 1:00 | 4:00 | 7:20 | 10:50 | 1:20 | 7:30 | 9:00 | 6:30 |
| 2 | 2:30 | 5:00 | 8:10 | 13:50 | 5:30 | 15:10 | 18:15 | 7:40 |
| 3 | 5:00 | 6:00 | 8:50 | 16:50 | 6:30 | 16:30 | | 8:40 |
| 4 | 6:00 | 6:30 | 9:30 | 19:50 | 8:30 | 18:00 | | 9:40 |
| 5 | 6:30 | 7:00 | 10:30 | 23:50 | 9:30 | 20:00 | | 10:40 |
| 6 | 6:50 | 8:00 | 11:30 | | 10:30 | 22:00 | | 11:40 |
| 7 | 7:10 | 8:35 | 12:30 | | 11:15 | | | 12:40 |
| 8 | 7:30 | 9:00 | 13:30 | | 12:00 | | | 13:40 |
| 9 | 7:50 | 10:00 | 14:30 | | 12:30 | | | 14:40 |
| 10 | 8:10 | 10:30 | 15:30 | | 13:00 | | | 15:40 |
| 11 | 8:30 | 11:01 | 16:30 | | 13:30 | | | 16:40 |
| 12 | 9:00 | 12:00 | 17:30 | | 14:00 | | | 17:40 |
| 13 | 9:30 | 12:30 | 18:30 | | 14:30 | | | 18:40 |
| 14 | 9:50 | 13:20 | 19:30 | | 15:00 | | | 19:40 |
| 15 | 10:10 | 13:40 | 20:10 | | 15:30 | | | 20:40 |
| 16 | 10:30 | 14:00 | 20:50 | | 16:00 | | | 21:40 |
| 17 | 11:00 | 14:30 | 21:30 | | 17:00 | | | 22:30 |
| 18 | 11:30 | 15:00 | 22:30 | | 17:30 | | | |
| 19 | 12:00 | 15:40 | 23:30 | | 18:30 | | | |
| 20 | 12:30 | 16:00 | | | 19:00 | | | |
| 21 | 13:00 | 16:30 | | | 19:30 | | | |
| 22 | 13:30 | 17:10 | | | 20:30 | | | |
| 23 | 13:50 | 17:40 | | | 21:00 | | | |
| 24 | 14:10 | 18:00 | | | 21:30 | | | |
| 25 | 14:30 | 18:30 | | | 22:50 | | | |
| 26 | 15:10 | 19:30 | | | 23:50 | | | |
| 27 | 15:30 | 20:00 | | | | | | |
| 28 | 15:50 | 20:40 | | | | | | |
| 29 | 16:10 | 21:40 | | | | | | |
| 30 | 16:30 | 22:30 | | | | | | |
| 31 | 16:50 | 23:30 | | | | | | |
| 32 | 17:10 | 0:30 | | | | | | |
| 33 | 17:30 | | | | | | | |
| 34 | 18:10 | | | | | | | |
| 35 | 18:30 | | | | | | | |
| 36 | 18:50 | | | | | | | |
| 37 | 19:10 | | | | | | | |
| 38 | 19:30 | | | | | | | |
| 39 | 19:50 | | | | | | | |
| 40 | 20:10 | | | | | | | |
| 41 | 20:30 | | | | | | | |
| 42 | 20:50 | | | | | | | |
| 43 | 21:10 | | | | | | | |
| 44 | 21:30 | | | | | | | |
| 45 | 21:50 | | | | | | | |
| 46 | 22:10 | | | | | | | |
| 47 | 22:30 | | | | | | | |
| 48 | 23:00 | | | | | | | |
| 49 | 23:30 | | | | | | | |
| 50 | 23:59 | | | | | | | |
| | | | TOTAL | DE | CORRIDAS | | | |
| | 50 | 32 | 19 | 5 | 25 | 6 | 2 | 17 |
| | | | TARIFAS | EN VIAJE | SENCILLO | | | |
| | 290.00 | 215.00 | 180.00 | 180.00 | 375.00 | 434.00 | 244.00 | 182.00 |
---
Airport and terminals map: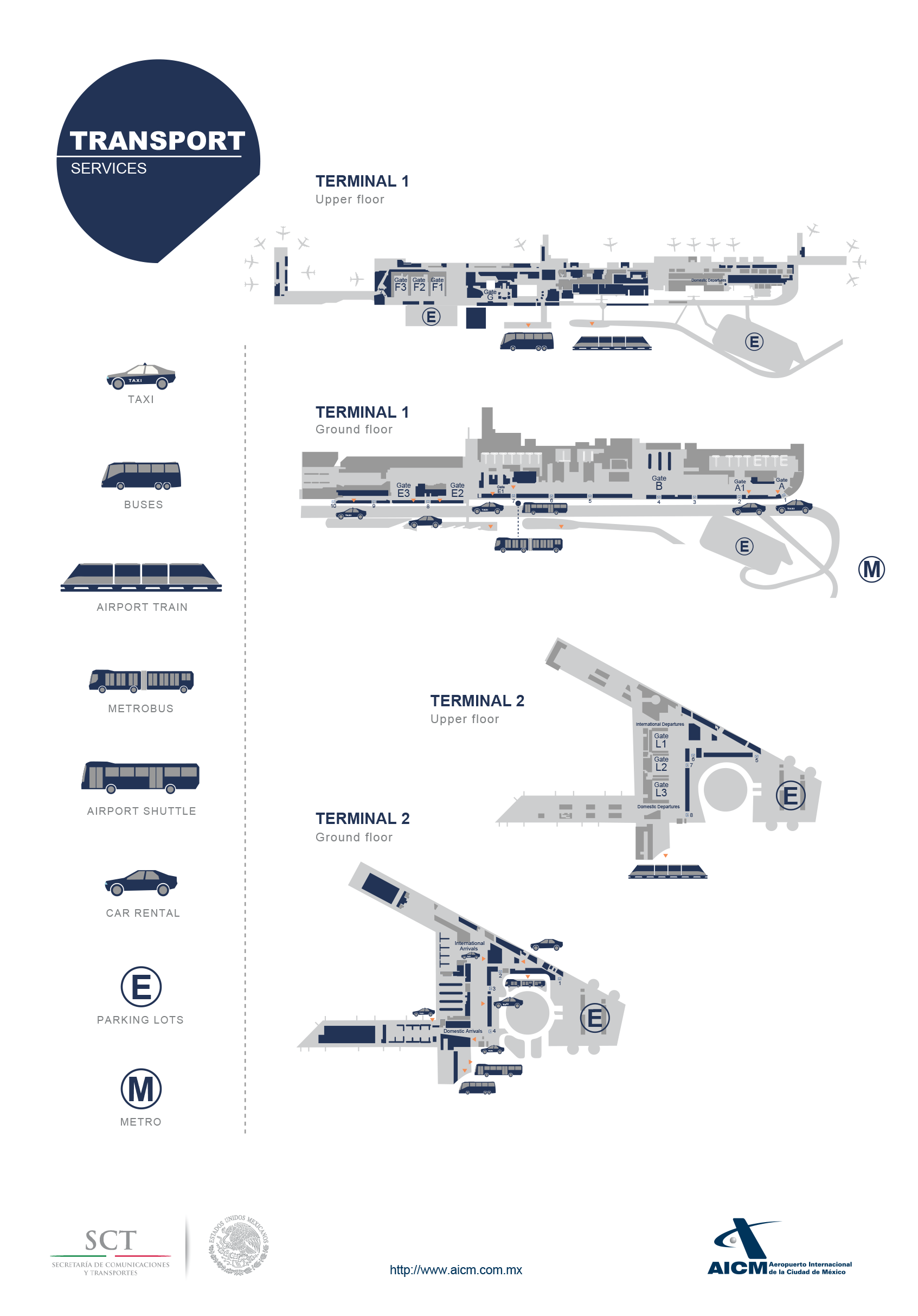 Revised/Last Update: February 2, 2018 12:04 pm